Depression Glass Collectibles 1929-1939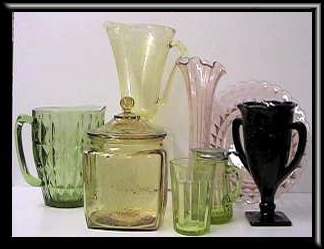 Depression Glass today is defined as that coloured glassware made during the depression period of 1929 to 1939. Cheaply made, Depression Glass was mass produced by machine and sold at five & dime stores or given away as premiums at gas stations, movie theatres or with food items such as flour and rolled oats. Apart from crystal, the primary colours of Depression Glass are blue, pink, green, vaseline, yellow, red, black, white and amber. There are over 200 different patterns on the collector market today produced by more than a dozen large glass factories of the period mainly in the United States but also Canada and England. Many Depression Glass patterns and colors have become very scarce and prices are continually rising for the most popular patterns.

Most of the Depression Glass factories were either sold or have closed completely such as Westmoreland, Heisey, Fostoria, Jeannette, McBeth-Evans, Hazel Atlas, Federal Glass and so on. There are many Reproductions on the market today. Collectors should inform themselves of these Reproductions to ensure they are purchasing only the true article. At The Glass Menagerie, we guarantee only period originals. Detailed description and condition are made available.

Swanky Swig is a name given by the Kraft Food company to small table glasses that originally contained samples of Kraft cheese spreads during the 1930's, 1940's and 1950's in Canada and the United States. Produced in the USA by the Hazel Atlas Glass Co. and in Canada by Dominion Glass, each had a metal snap lid and each was hand decorated with stencil and glass enameling paint later heated to help retain the image. There are many collectible patterns to be found, some of the more difficult to find in good condition are the original tulips in pots and the Galleon. Bustlin' Betsy, Kiddie Kups, Antique series & Bachelor Button patterns were added during the early 1950's. Collectors should be aware - 3 1/4 inch glasses and the 4 1/2 inch were available only in Canada. The standard and most common size of 3 1/2" were distributed in the United States as well as Canada. Also look for the taller 3 3/4 and 4 1/4 inch tall swankys in most patterns. Finding Swankys in good to excellent condition is difficult today as modern automatic dishwashers quickly wear off the patterns and destroy the glass surface reducing the values considerably.
---
Thank you for visiting the Glass Menagerie Antiques and Collectibles site. We invite you to visit the rest of our site by clicking on the "Home Page" button or any of the "Category" buttons on the pink bars left.

Click on these boxes to View our current Inventory
---