Scroll Down To View Our Collection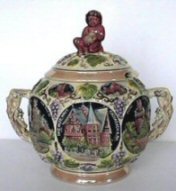 Vintage & Antique Porcelain and Pottery pieces include American and Canadian Crocks and Jugs, Wade Pottery from England and Ireland, Antique Torquay Motto Ware Pottery, beautiful Eggshell Porcelain China from the Irish Belleek factory and a variety of Vintage Collectible Vases, Bowls and Plates from all over the world; discontinue Blue Mountain Pottery from Canada and the Covered Pot left which is part of an Antique 14 piece Majolica Punch Set.
Vintage Wade Porcelain & Pottery Ware and Whimsies are included in this section. Wade Potteries date back to 1867 in Burslem, England expanding into Ireland in 1958. The names George Wade & Sons Ltd; J&W Wade & Co., A.J. Wade & Co. & Wade Heath & Co. Ltd. are all part of the same group of companies producing utilitarian items in the early days, then into figurines and decor items through the 1930's into the small figural whimsies beginning in the 1950's. The group of Wade Potteries was sold to Beauford PLC in 1990 and became Wade Ceramics, a private company thus ending the long history of The World of Wade. Original Wade products are becoming more scarce and are still highly collectible. All Wade products are marked but there are many marks all specific to a time and production factory over the years. Most marks are ink stamps, some are embossed mold marks but all authentic Wade is identified on every item. Please see all our Wade Whimsies under Figurine Collectibles listed on the left.
Vintage Torquay Motto & Cottage Ware refers to a specific and unique type of pottery dating back to the mid-Victorian era of 1867. Wheel turned and molded terra-cotta style clay pieces were glazed and painted in colourful decorative designs. Many items feature verses, proverbs or quotes scratched into the surface just before firing. The most popular patterns of the day were Cottage scenes, Black Cockeral and Scandy scroll work. All the items you see in our inventory are original and antique.
Retired Belleek is an Irish location name and adopted to represent the thin translucent porcelain tableware and decorative items produced in Ireland dating back to 1859. All original Belleek is base marked and can be identified and dated by the style and colour of the ink stamp on each piece. With variations, the base marks always incorporate the Irish Worlfhound, Celtic Round Tower, Harp and Shamrocks. The interior of most pieces has a creamy pearl-like lustre. The most popular pattern has been the basket-weave and shamrock pattern but Belleek made a variety of beautiful patterns to collect. Belleek Marks: The first three marks are Black and date from 1863-1946. Followed were a series of three Green marks 1946 until 1980. A Gold mark was introduced from 1980 to 1992. The most current - 8th mark is Blue.
Thank you for visiting the Glass Menagerie Antiques and Collectibles site. We invite you to visit the rest of our site by clicking on the "Home Page" button at the top of this page.
---
Click on the Boxes Below